Bikers Against Child Abuse (BACA)
Bikers Against Child Abuse (BACA) is an organization providing abused children with a safer environment.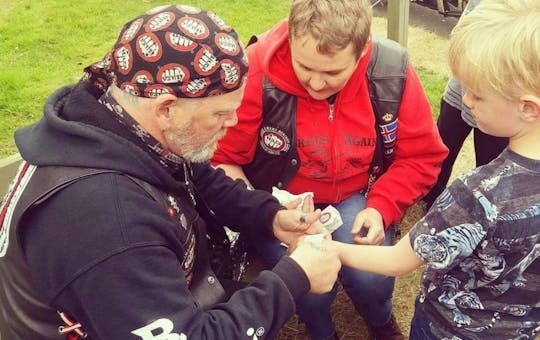 BACA responds
The B.A.C.A. is a charity organization consisting of bikers who support abused children to have the courage to tackle life again. The B.A.C.A. has successfully managed to enable children to return to daily activities, after having experienced abuse in their life. The charity aims to send a clear message to everyone involved, that the child is a part of their organization and they're ready to provide mental and physical support with their presence and support.
When the B.A.C.A. receives an application from a guardian, a children's spokesperson contacts the family and prepares the implementation with a detailed presentation. Eventually, the child has the final say in what kind of support it wishes to receive from the B.A.C.A. The child chooses a road name and a patch, which goes on the child's vest. The child is provided with two contacts who are available 24hrs a day.
In order to be accepted, a case needs to be reported to the police or child protection authorities. The main priorities are the awareness and consent of the child's guardian alongside any other responders, such as the police, child protection authorities, school, and other professionals. The B.A.C.A. hotline number 780 2131 is open 24/7. The charity mainly operates in the greater Reykjavik area but has assisted in rural areas such as Borgarnes and Hvolsvöllur.
Languages

Íslenska, English
Child abuse
Child abuse has serious and long lasting effect on a person's life. It is crucial to stop the child abuse as soon as possible and get help immediately.